Saturday, July 26th, 2008 at 11:56 am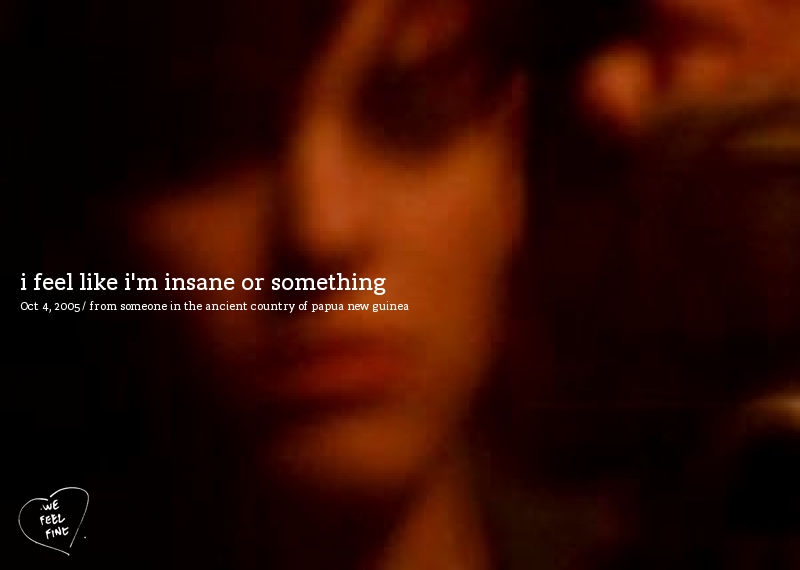 The image at the right is from the wonderfully revealing "We Feel Fine" project. Scouring the internet for expressions of emotions, It is a project in mass, anonymous,  intimacy. Not only is the site poetically and artistically moving, on a practical level it gives us a sampling of the utterances we scrabble together or craft with exquisite care in an attempt to make our inner experience available to others.
If we look carefully at groups of these utterances, they give us a picture of how we express our emotions around the world, and how the expressions we choose make clear communications so difficult.
The statements the engine finds, as it searches blogs every 10 minutes, are often banal (I feel sooo good), yet sometimes quite touching (i'm alone with you you make me feel like i am clean).
You'll find a variety of interfaces on the site, including a set of montages of single posts like the one above as well as visual representations of groupings of expressions, like this one to the left.  Tools
(programming API's) on the site allow you to collect groups of statements along with images from the blogs and whatever demographic information the engine has been able to find on the sites where the entries are posted. 
Below, you'll find a list of utterances I collected as they came into the site at about 9:30 p.m. PST last night. Read the rest of this entry